How Education, Sympathy, Empathy and Compassion, changes the world.
"Joy is what happens to us when we allow ourselves to recognize how good things really are."
Dr. Brene Brown
Happy New Year everyone!
To open 2019 I wanted to bring in the New Year with something a little different, give us all the opportunity to  choose from a new list, choices.
A huge thank you to my friend Samantha Medved, a soon to be graduating Senior from MSU in Kinesiology, through her I learned of the 'Personal Bill of Rights'.   I was completely unaware of this list and when I read through these thought what a perfect way to start 2019, choosing one or more of these items as a kickoff for the New Year.
With twenty-five choices  this list contains flexibility.   The idea is that we all have rights as human beings. We either  forget or we do not appreciate that we have these rights, hey everyone is different.    Perhaps we were unaware of these rights as children growing up, or like me lacked awareness or knowledge as an adult.  Becoming aware, educated and embracing these rights, learning to exercise them, we then can build a more assertive attitude. Building a positive life and become more resilient in our day-to-day living.
When we choose to respect ourselves enough to be conscious of our basic human rights, flourishing and hope blossom. Education, sympathy, empathy and compassion, all of these attributes work in combination.  Fuel for our 2019 journey!
Beginning to understand how vital each of these rights are to the human condition, leading to living a quality of life that all of us desire is important to understand.  You all know me, I am all about QOL.
 Social anxiety is so deeply connected with our self-esteem and how we value our self, that to not understand the depth of insecurities is to deny true happiness. Gotta build awareness, become educated, sympathize-empathize-rationalize building the compassion muscle.
Fear and worry leads to self-doubt, confidence is never established and darkness of the 'Negative Energy Tornado' can rule a person's life.  The 'Personal Bill of Rights' hold power to change.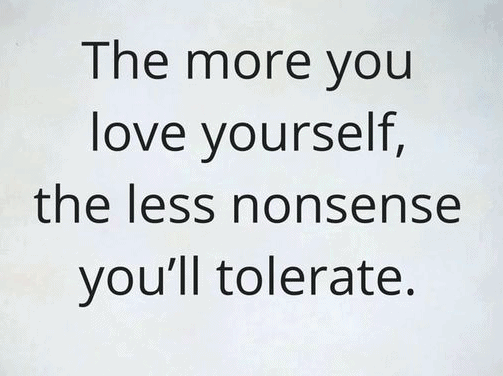 It has taken me years to accept who I am; my personal struggles with alcohol and drug abuse is well documented.  Self-medicating, hiding and lying were inextricably tied to my behavioral issues. Counseling and therapy undoubtedly saved my life.  Embracing my inadequacies, self-esteem issues, insecurities, and owning my vulnerabilities made me a better, stronger person.   I am much more aware of how important these twenty-five rights are to  rock solid confidence and determination.  Failure and poor choices, yep, gotta own all of it.
I was never going to have a solid relationship with anyone until I had a better relationship with myself.
Everyone is entitled to each of these Twenty-Five rights.  We should be aware, sympathetic, empathetic and compassionate to those who may be suffering, have suffered and or experienced trauma in their lives. It is not shame that should drive us to suffer silently, but prideful awareness and respect which will liberate and enhance our quality of life, living a well-balanced and fulfilled existence .
Bring good people into your life by loving yourself more, I know, I believe!  Frankly it is amazing.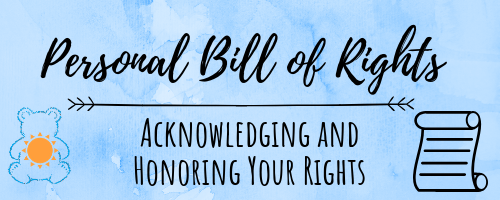 Please read and think about each of the following rights, they belong to each of us.  Find where you need clarity, leverage the dream and work it. Become accountable and accept that each of us is special.  Never allow people, situations, or past failures to control us, demean us.  Own our personal journey and destiny.  Own your life!
I have the right to ask for what I want.
I have the right to say NO to requests or demands I can't or I don't want to meet.
I have the right to express all of my feelings, positive or negative.
I have the right to change my mind.
I have the right to make mistakes and not have to be perfect.
I have the right to follow my own standards.
I have the right to say no to anything when I feel I am not ready, it is unsafe, or it violates my values.
I have the right to determine my own priorities.
I have the right not to be responsible for others' behavior, actions, feelings, or problems.
I have the right to expect honesty from others.
I have the right to be angry at someone I love.
I have the right to be uniquely myself.
I have the right to feel scared and say "I'm scared."
I have the right to say "I don't know."
I have the right not to give excuses or reasons for my behavior.
I have the right to make decisions based on my feelings.
I have the right to my own needs for personal space and time.
I have the right to be playful and frivolous.
I have the right to be healthier than those around me.
I have the right to be in a non abusive environment.
I have the right to make friends and be comfortable around people.
I have the right to change and grow.
I have the right to have my needs and wants respected by others.
I have the right to be treated with dignity and respect.
I have the right to be happy.
source: https://explorable.com/e/personal-bill-of-rights
Be aware-
As we change and grow into the 'Newer & Better ME', family or friends may question the bolder, more assertive person you have become, expect it.  People do not like change, and your new confidence and self-esteem may indeed put stress on a relationship.  If it does than that is a clear signal that the person who is not embracing your rights needs to get a clue, and perhaps be kicked to the curb, it happens! If a friend or family member does not like the more confident version of you, are they a friend worth having? In time those that are worthy of your friendship, and or love will come to admire your efforts.
Being assertive you will gain self-respect, and with that respect you will increase your own sense of worth, value and integrity.   Being assertive is not being rude.  Being confident and comfortable in your own skin is a good thing.  Only through confidence can sympathetic, empathic and compassionate feelings grow.
"If we want to cultivate hopefulness, we have to be willing to be flexible and demonstrate perseverance."
Dr. Brene Brown
Thank you to my young friend Samatha for sharing this list with me.  You see everyone, it takes a tribe to build a village, it takes cooperation and collaboration to change a culture and its values.   It takes love, education, sympathy, empathy, and compassion to bring us together as a community.
Let us all thrive together in 2019.
Much love to you all,
Peace,
t